Large Animal Rotating Internship
Tuesday, September 6, 2022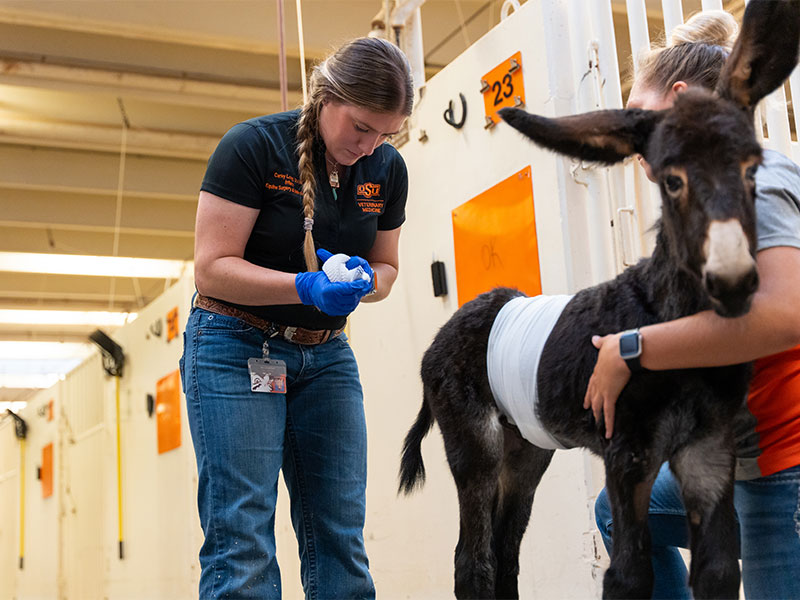 The Equine and food animal faculty at Oklahoma State are pleased to announce that we have a Large Animal rotating internship (1 year) to start this fall.
The selected intern will rotate primarily between the Equine Medicine service (fall) and food animal medicine & surgery service (spring) with opportunity to spend time with the Equine Surgery and Sports Medicine and Equine Theriogenology services.
Strengths of our program include our high and diverse food animal caseload which includes primary care work for our local clientele as well as referred tertiary care. Residents and interns gain experience not just in medicine but also food animal surgery, theriogenology and production medicine. We see a wide variety of equine cases on all services and have many University owned animals that provide excellent learning opportunities. Our team is very cohesive and works well between services. Our program allows some flexibility so that individuals can mold their program to best fit their needs. You will receive mentorship from board certified specialists in multiple disciplines. Involvement in research is not required but will be available to interested individuals.
We would love to visit with you if you are interested, even if you have never considered advanced training before!